What is a 1000 Words Essay?
Commonly, an essay is a short writing text that is used to express your thoughts and ideas about specific topics or subjects. There are several possible types of essays and ways to format your writing texts. However, another important feature of an assigned essay is its size.
Usually, the teacher tells you how long your essay shall be. If you are assigned to create a 1 000 word essay it means you are supposed to compose a detailed, structured and informative text.
Often students are asked to write a shorter essay, however, a 1 000 word paper is not a reason to panic. In opposite, the longer essay allows you to show your knowledge, your expertise, to explain your ideas with more bright examples.
A 1 000 word essay is a great opportunity to earn an excellent mark if you know some tips on how to prepare and write an essay in the correct way.
How Do You Write a Good 1000 Words Essay?
A detailed plan of work is a good beginning for writing an essay. It can be especially useful if you are going to prepare an interesting 1 000 word essay that requires lots of time and serious preparation.
Think about possible stages of work and be sure you can plan enough time for each of them.
● Choosing a theme and a topic
Deciding on the right topic that reflects your ideas and looks interesting to your target auditory is an important step to start from. Choosing a theme, be sure you can get enough useful information for your future essay.
● Collecting valuable information
Don't start writing your essay before you become a kind of expert in the chosen field. Read some books and articles dedicated to the topic you chose. Be ready that this stage of preparation may take much time. Make some notes during reading – it will save your time and will help you to understand the information better.
● Writing outlines
Write the outlines of your future text. This will help you to structure your information and to write a better and more logical essay.
● Writing the essay itself
Start writing the essay when the outlines and a scheme of the future text are ready.
● Editing
Pay enough attention to proofreading and editing your text. Remember that minor mistakes and misprints are often reasons to get a lower mark for an essay.
4 Main Types of 1000 Words Essay
There are several types of essay that can have a recommended size of 1 000 words. However, there are four main and very common types that often have the mentioned size:
1. Expository Essay
This type is very common and is familiar to many students. The main aim of such essays is to introduce a reader to a subject described in the text. If you are assigned to write a 1 000 word expository paper, it means you need to include a lot of bare facts and actual information in your future text.
2. Descriptive Essay
As you may understand from the name of the essay type, it's aimed at describing a subject or an event. This type of essay usually encourages you to be creative and to include not only facts about an object but also to speak about your own experience or attitude towards the topic.
3. Narrative Essay
In fact, this type is a kind of a story that is told on your own. Often, you are asked to write about your own experience or about a story that is well-known for you. Students like this type of essay because it doesn't require hours to be spent on searching for information. This type of essay motivates you to speak about your emotions, memories, conclusions.
4. Argumentative Essay
It's easy to confuse between an argumentative and an expository essay types. However, while an expository essay is quite a common and easy task, an argumentative essay requires more work and concentration. It needs a scholar to be well-introduced to the topic and to make detailed research about the described object.
1000 Words Essay Writing Tips
Facing a task of crafting a 1 000 word paper, many scholars have a lot of questions. Standard guides are rarely able to explain the most common issues that may arise during preparation and writing.
That's why we decided on some most common questions that students ask and to answer each of them.
How Many Pages is 1000 Words Essay?
The number of pages to hold 1 000 words may depend on the type of formatting and the way your essay is written. Commonly students print their essay using a PC keyboard. In a case you use standard formatting setting like Times New Roman, your essay may take 3-4 printed pages.
How Long is a 1000 Words Essay?
An academic paper with 1 000 words is quite long compared to other essay types. Commonly, this size of the essay takes up to 4 pages. However, it may be longer if you decide to include many lists, quotes, charts or pictures in your writing paper. Depending on the academic style some extra pages may be required for references, title page, etc.
How Many Paragraphs are in a 1000 Words Essay?
Being an author of your own essay, you can decide how many paragraphs it may have. There are no strict rules or recommendations about the number of paragraphs. Commonly, students separate the 1 000 words writing into 4-8 paragraphs. Shorter paragraphs make it easier to read the paper.
How Long does a 1000 Word Essay Take?
Many students say that writing 1 000 word text takes up to 3-5 hours. However, the preparation and search of information may take from some hours to some days. This depends on the level of your acquaintance with the subject and your knowledge. Writing expert recommend to write 1 000 paper beforehand, so you also have enough time to proofread the paper.
How Many Pages is 1000 Words Handwritten?
Some psychologists say that writing a text with a pen is helpful for better understanding and remembering the information. If your teacher supports the theory, you may be asked to write your essay by your hand. It's not easy to predict the number of handwritten pages as it strongly depends on your font and writing skills. Often it takes from 2 to 5 papers written by hand.
1000 Words Essay Example
We've noticed that ready examples and samples of essays are very useful. While expert tips help to work on details, the ready samples are great for understanding some general writing concepts.
Moreover, ready samples are great sources of inspiration. You can easily find some ready works on the internet. However, having little experience, you may face problems trying to understand whether the sample is good enough.
We solved the problem, creating a collection of good and inspirational examples of ready essays that you can read below.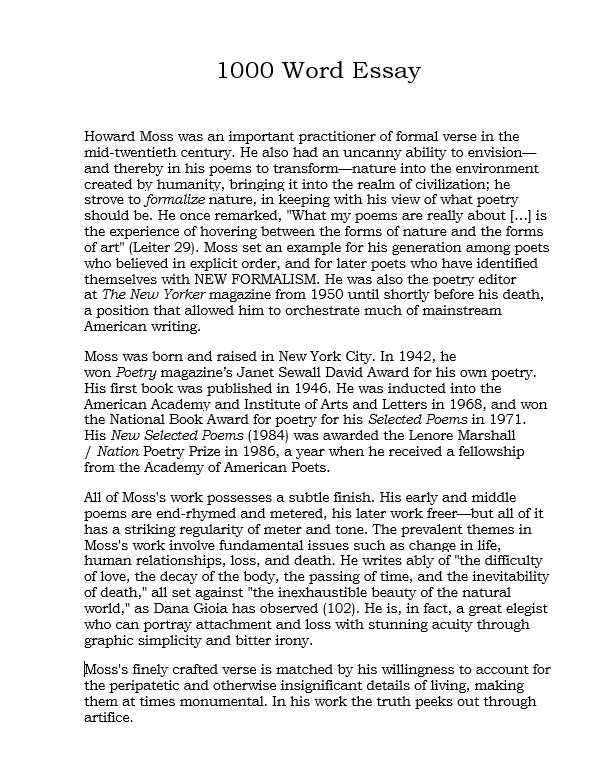 1000 word essay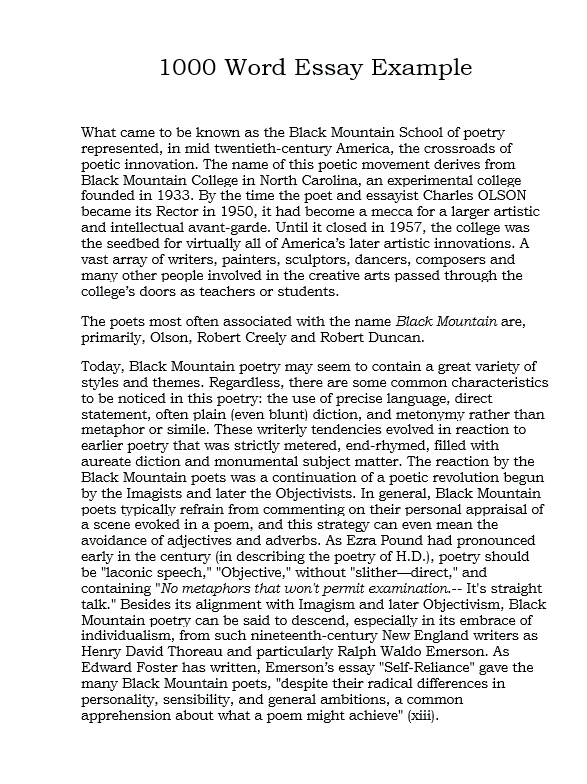 1000 word essay example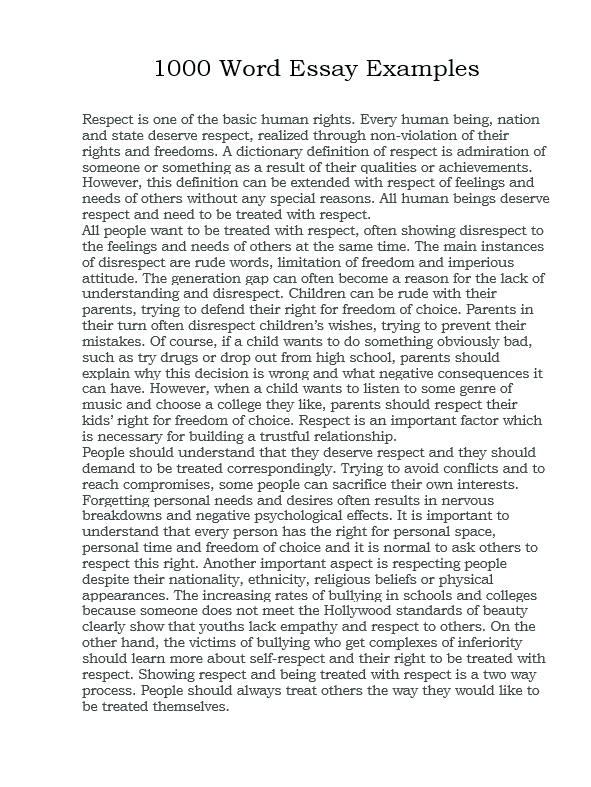 1000 word essay examples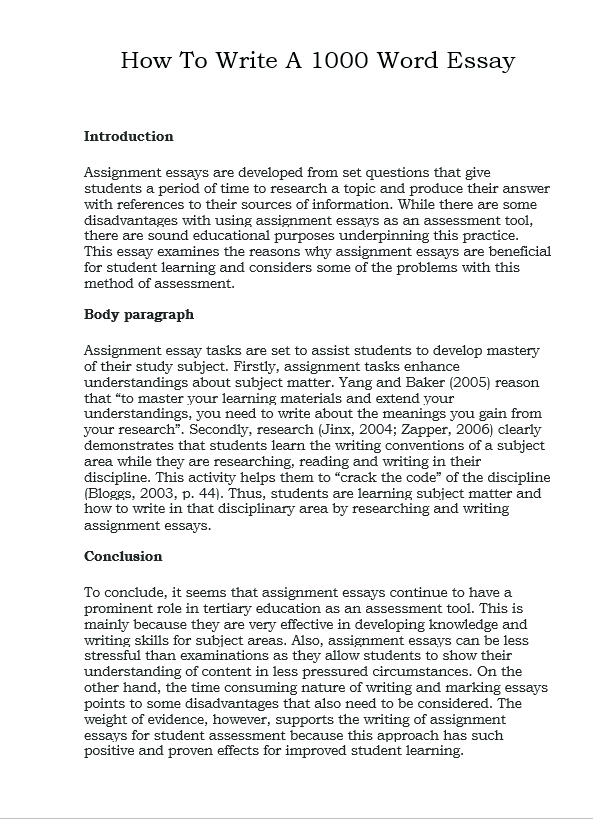 how to write a 1000 word essay